Listen Up! IH – Episode 13
---
"Copywriting is the number one skill you need if you want to make money"
👆That's Sam Parr's insight from building, running, and selling a successful media empire.
Courtland Allen interviewed him, they discussed Sam's unique skill set, the importance of copywriting, and how to start a media business today.
Some lessons👇
---
The Hustle Media Empire📚
Sam's media empire consist of three properties –
HustleCon is an in-person conference. A "2 day MBA in startup growth tactics". The world's most successful founders tell their stories and share their strategies, tactics, and insights around their wins and losses.The last Hustlecon happened in December 2019. Since then, it has been stalled due to Covid-19.But the loss in revenue from Hustlecon has been more than made up by the two newsletter businesses.
The Hustle is a daily tech and business newsletter with a unique style. It promises to deliver the most relevant news in 5 minutes or less.There are no ads in the daily email, but according to its "advertise" page, The Hustle makes money by creating "custom content" with brands that its audience will love.
Trends is a weekly paid newsletter from The Hustle. It just has one pricing tier – $299/Year – and was their first paid offering.The yearly subscription helps them get massive cash flow upfront.The newsletter works like this: subscribers pay a yearly fee to get a weekly trends newsletter, access to a private community, lecture series, and case study archives.Several subscribers of theirs have already been incredibly successful:
A direct-to-consumer plants startup that raised $1.5M in funding;
A peanut butter business that did $1M in revenue;
A logistics company that has grown from 200 orders/month to tens of thousands of orders per month.
The Hustle media empire has established itself as one of the best new-age media companies in the world.
They shy away from traditional media business models like advertising and strive to build the best experience for their readers.
But how did he do it?
Sam relied on 3 core skills to build The Hustle
The Skills Tripod🤹‍♂️
Writing is a lot like music.
You start at a very basic level, but with relentless practice, you get better.
And when you produce a masterpiece, people think you are naturally talented.
In the initial days of The Hustle, Sam wrote a ton of great content and drove a massive amount of traffic on the site.
The Hustle isn't a traditional media business.
It's a media + tech business. It's intensely focused on the reader.
Sam believes traditional media companies consider their readers to be just numbers on a graph. They focus on increasing those numbers.
New-age tech companies focus on individual users. Their pains, desires, and aspirations and design products according to them.
That's how The Hustle has been designed, and that's how it wins.
There's a "snippets" section in the daily newsletter, which each subscriber can customize to their own liking.
They can choose the topics they want to see the news from in the snippets every day.
These sales pages convert better than simple landing pages.
Most people create simple landing pages that just describe the product. They aren't as persuasive. Sales pages have long copy + images + videos with the single purpose of making a sale.
Sam believes that Silicon Valley tech startups are missing out by not writing such sales pages.
Look at any Amazon product and you will see 2000 words of copy + Photos and Videos of the product + Social proof in the form of authentic customer reviews.
These are proven techniques in the world of advertising, but tech products seem to miss out on them.
And he is happy to deliver a crash course on copywriting right in the middle of the podcast.
The Copywriting crash course👨‍🏫
Copywriting means understanding human behavior and understanding people's wants and needs and ultimately enticing them to purchase your product or service.
It's persuasion using the written word.
Basics of good copywriting can be understood using the AIDA formula –
Attention – Grab the attention of the reader.
Interest – Tell them facts to get them interested.
Desire – Tell them stories to generate desire – share features and benefits.
Action – Specifically layout what action you wish the reader to take.
That's the formula for persuasion, if you understand human behavior, you can implement this formula in almost any piece of content that you create.
I loosely try to write these weekly posts around the AIDA formula as well.
How to start a media business today📺
If you want to start a media business from scratch today, it's better to go and see what's working already, instead of trying to innovate from the ground up.
Before starting The Hustle, Sam spoke to many major media publications like the Motley Fool, The New York Times, and The Wall Street Journal.
He asked them a host of questions about what was working in their business i.e. how were they making money, how were they planning the content, hiring writers and editors.
He says there are thousands of businesses already running well that have cracked the code on what's working. So why not learn from them?
This quote sums up the idea –
"To me, business is like writing songs, where there's a handful of chord structures that just work and most pop songs are around 80-100 bpm. They have a chorus, a bridge and they're just best practices. Within those best practices, I can make my art and that's how I view it." – Sam Parr
5 tips for a new media business –
Pick a small but fast-growing niche.
Purposely know who you are targeting.
Know who you are NOT targeting.
Make content that helps someone make money. That way they can justify the cost.
Love what you are doing.
To monetize a content business, subscriptions are better than advertisements or sponsors.
Subscriptions give you full creative control over the product.
The Hustle ticks all those boxes.
Advice for Indie Hackers🤗
"Launch something tomorrow. Do it fast and don't think about anything. Just do it. There's so many frigging smart people. Your audience is probably incredibly smart, way smarter than I am. The thing that holds them back is fear of launching.Intellectually speaking, creating a business is super easy and straightforward. Emotionally, it's really hard, so the best way to overcome that is just do it. You just got to do it." – Sam Parr
---
Thanks for Reading🙏
This is the most absorbing and enriching monologue I've watched in a long time.
---
Every week, I listen to the best podcasts around Indie Hacking and share the most actionable and inspiring tips from some awesome conversations.
Subscribe to Listen Up! IH and get them directly in your inbox
Join 500+ spirited Indie Hackers who read this newsletter every week 👇
SUBSCRIBE
Cheers,
Ayush
---
Related: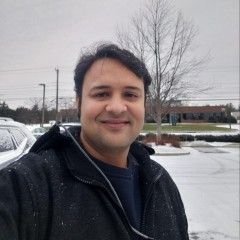 Writes articles on The Wizdom Project