Listen Up! IH – Episode 12
---
"Luck favors those who are in motion"
👆That's James Traf's insight from being an "overnight success"
He made more than $100K in 6 days from an icon pack that took 2 hours to design.
He rode a viral trend, got randomly boosted by a celebrity, and made a ton of money just sitting in his home looking at his notifications.
They discussed his 7 years of persistence. The lucky break, and how Indie Hackers can make their own luck.
Some Lessons👇
---
Catching a Trend📈
In September 2019, Apple released the iOS 14 update for the iPhone.
This meant that for the first time ever, Apple users could have custom icons for their Apps.
This was nothing new for Android users, but for the iPhone community – this was a revolution.
Before iOS 14, people had to "jailbreak" (side load illegal software just to use some custom icons) their phones to make any kind of theme changes.
Once Apple made it official, designers could build and sell beautiful themes and icons for the iPhone, and users could buy and install them legally.
Soon enough, users started sharing their home-screen screenshots on social media.
Traf also joined the trend.
As of now, that tweet has 23,000 likes and more than 7500 Retweets.
Everyone loved Traf's home screen. It was described as "clean", "slick" and a "dream aesthetic".
People wanted to buy the icons and use them immediately.
"Lemme know where to send money! I need this in my life."
In the video, Marques talked about how different kinds of users could customize their phones. For power users, he mentioned there were a bunch of different icon packs that designers were making.
But it wasn't about just one day.
Over the next 6 days, he made $116,147 from 4188 customers.
But his path to success began years before.
7 Years to Overnight Success💪
Traf had been making iOS icons and themes since 2013.
The first icon set he sold was for $0.99 and he made a total of $17 from it.
It wasn't a lot of money, but the feeling of making money off his talent was magical.
Since then, he has dabbled in many projects and startups.
People could send random gifts anonymously to their friends.
As a sender, you wouldn't have to worry about picking a gift. As a receiver, you wouldn't know who sent you the gift.
Just a package would show up on your doorstep – sounds cool, right?
But the model didn't work. Traf and his co-founder ran out of money, and also the motivation to continue in the domain.
In May 2020, he turned to delivering software.
It's a No-Code website builder.
For $12 a month anyone can run a site using Super with Notion as the content management system.
There are templates and CSS tricks to make a Super based site look beautiful.
He used 3 No Code tools to set up a website within 2 hours –
Gumroad – to handle payments.
Notion – to manage the content.
Super – to tie it all together in a beautiful website.
Traf has big plans for Super, he wants to go beyond Notion and make it the simplest website publishing experience ever.
That's what he is working on these days.
Yes, he got a great opportunity, but through timely affirmative action, he made his own luck as well.
Making Your Own Luck🎲
Courtland pointed out there are 3 specific elements to making your own luck and achieving success.
Preparation – Traf had been designing icons for over 7 years by this point. He knew how to set up a website quickly.He was as "prepared" for this opportunity as anyone ever could be.
Opportunity – This is the actual "lucky" part. This is out of everyone's control. He couldn't have gone to Apple and asked them to make changes to their operating system.But he suggests these steps anyone can take to "manufacture" opportunities for themselves.Two steps to create opportunity –"Luck favors those who are in motion" – In the internet age, motion just means putting your work out there, not being afraid to share it, not being afraid of oversharing in a sense" – James TrafAnd when the opportunity appears, take action on it.
Share a lot. Put yourself out there. Tell the world you are an expert at this.Continually.It will increase the chances of getting lucky breaks. Traf had been Tweeting actively for a long time, sharing his home screen on Twitter came naturally to him.He doesn't even mind oversharing sometimes.This quote captures the idea –
Read a lot. Follow the news and trends in your niche. Be up to date with what's going on in the industry. This way you will know when new trends are rising in your domain.
Action – Even if you are prepared and an opportunity shows up, it means nothing if you don't take action.You can maximize your "luck" by taking speedy positive action. When he realized he was going viral, Traf took extra steps to double down on the virality –
He created more content on the site – Showcase page, tutorial pages.
Made more mockups and designs – kept increasing the number of icons, even asked the community on Twitter what they wanted.
Wrote a blog post describing his experience of those 6 days
Publish often – Create proof of work on the internet.
Act Immediately – Be quick to ride a trend
Be transparent – Share what works, and what doesn't, transparency adds to visibility.
Clear schedule – He wasn't busy in meetings when the chance came. He had an empty calendar to take action.
Charge more – These were 1st iOS customizers, there was no notion of how much his icons should cost. He charged $28 which he could have reduced if it didn't work.
Do it for the Art – Love the art and do it for it. Not just to make money.
Advice for Indie Hackers🤗
"..the biggest thing is that you need less than you think to get started. You know you don't need a business plan. You don't need a degree in software engineering. You don't need to quit your job. You need two things. I would say. One, a computer with an internet connection and some initiative. And with those, I think sky's the limit. I think what each of us has stored in our brains is probably under leveraged to some extent. And so you don't need anyone's permission to capitalize on it but your own." – James Traf
Now go out there, take some initiative and get "lucky"!
---
Thanks for Reading🙏
Every week, I listen to the best podcasts around Indie-Hacking and share the most actionable and inspiring tips from some awesome conversations.
Subscribe to Listen Up! IH and get them directly in your inbox
Join 475+ spirited Indie Hackers who read this newsletter every week 👇
Cheers,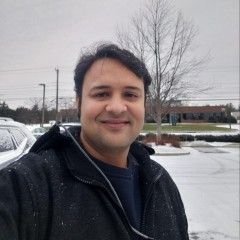 Writes articles on The Wizdom Project